WHATS ALL THE FUSS?
A group calling themselves Citizens For Peace And Respect have opposed Manson playing the Ozzfest in Denver and have set up a website (http://www.nomanson.org). They put put across a very weak arguement, with their strongest point being that they have three Columbine parents behind them. They mention Columbine throughout their site, although admit Manson had nothing to do with it. Their arguement now is that Manson influences 'the type of behaviour' seen in the Columbine killers.
WHO ARE MARILYN MANSON?
A rock band formed in 1989, rebelling against a bland music scene with a blend of industrial music, onstage theatrics and woman meets serial killer image. They have received 20 gold and platinum discs worldwide for their work.
WHAT CAN WE DO?
You can send your name/location and comment by signing the petition below. The information will be passed on. Your support is appreciated.
Petition
WHO EXACTLY OPPOSES MANSON?
"This is perhaps the sickest group ever promoted by a mainstream record company", was the words of Joe Lieberman, who is among many politicians who have used Manson to try and get some votes. I am currently gathering a list of names and contact adresses for politicians, Church leaders and general interfering do-gooders around the world who feel they would like to choose what is fit for everyone in their community. If you have any info please email me.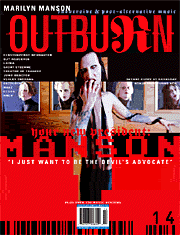 MORE INFO PLEASE!
I've posted links to various website's which give varied version's of the Manson story so far.
Contact Me